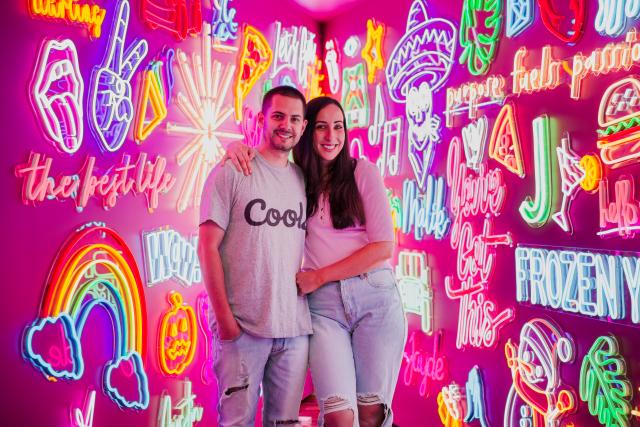 Greater Geelong businesses were honored at a gala ceremony.
The Geelong Business Excellence Awards took place tonight at the GMHBA Stadium with Custom Neon winning the Medium to Large Business Award, sponsored by EML.
After buying an LED neon sign for their son's bedroom, Jess and Jake Munday shared a bright idea.
"We appreciate what we do to light up this world." says Jacques.
Jake thanked his team and the judges for voting.
In what was originally intended to be a maternity leave project, Jess and Jake launched their business idea on Instagram, selling custom LED neon signs for Geelong businesses and events. Thus, Custom Neon was born in May 2018 and has since exploded in the market.
Now a permanently thriving business, Custom Neon has taken the world by storm, growing from a home-based business based in Jess and Jake's garage and selling on Instagram, to a successful start-up in Geelong's Newtown with teams in the UK and in the United States.
Lee-Anne Campigli was crowned Young Entrepreneur of the Year, sponsored by Deakin University.
Lee-Anne is the owner of You're Gorgeous Hair and Beauty, a leading hair and beauty salon in Geelong. After completing her hairdressing apprenticeship, Lee-Anne bought the salon at just 23 years old.
The salon soon moved to larger premises in the CBD at Moorabool Street to keep up with the demand for services from Lee-Anne and her team.
The judges were impressed with Lee-Anne's expansion into beauty and hair extension services, as well as how she has managed her business throughout the COVID-19 pandemic.
The judges found Lee-Anne's approach to success and entrepreneurship very refreshing, quoting her as saying, "You can be successful while being kind – you don't have to be ruthless".
"To my beautiful team, I'm so lucky to have you all past and present." Said Lee-Anne.
"I am truly honored."
The Sustainable Business of the Year award went to Scubabo Ocean Dive Victoria.
For full 24-page coverage of the GBEA, including winners in all categories, check out tomorrow's Geelong Independent.