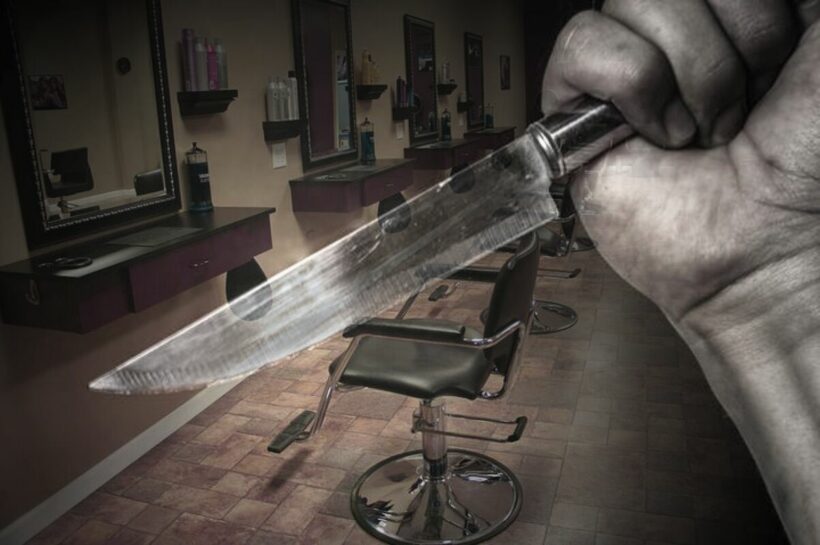 Iconic French fashion designer Coco Chanel once said, "A woman who cuts her hair is about to change her life. But, in a bizarre and tragic incident at the salon in Pathum Thani, a woman having her allegedly bad haircut ended in violence that left two people dead.
The incident happened yesterday afternoon at a shopping mall in the suburban Greater Bangkok province when a woman decided to have her hair cut at a beauty salon in the mall. Details of the story were reported by the Ruamkatanyu Volunteer Association on their Facebook page.
The wife went to the mall and took her husband and their 5 year old child on the trip. The identities and ages of the woman and man have not been made public. When she stopped by the beauty salon to get her hair done, her husband took their child for a walk in the mall for shopping.
When she left the salon, she was reunited with her husband but seemed unhappy. They returned to the beauty salon together, with the woman apparently unhappy with the results of her haircut. The woman had a heated discussion with the hairdresser about the haircut and things quickly escalated.
Soon the commotion grew unruly enough that the salon owner stepped in to try to resolve the altercation, but he too was drawn into the argument. Things got physical and the confrontation quickly escalated, coming at the hands of the woman's husband fighting the salon owner.
Now a fight in its own right, the woman unhappy with her haircut, as well as her husband, were both stabbed, allegedly by the owner of the beauty salon, although the Facebook post reporting the incident does not make it clear who stabbed. The woman and her husband died from stab wounds received during the conflict.
SOURCE: Thai PBS World
For more information on life insurance, CLICK HERE